Greater Louisville Home Prices Increasing More Moderately, Strong Growth Expected in 2023
---
Greater Louisville Home Prices Increasing More Moderately, Strong Growth Expected in 2023
Home sales in Greater Louisville declined for the eleventh consecutive month in November as a result of increasing interest rates and insufficient supply while home prices continue to rise but by smaller margins, according to the Greater Louisville Association of REALTORS® (GLAR).  
Total existing home sales, including single-family homes, condominiums, and townhomes, decreased 18.2% from 1579 in November 2021 to 1124 in November 2022. 
Record demand combined with low supply continues to fuel price growth. The median home sale price in November was $242,856 up 0.4% from $241,875 in November 2021. The average home sale price was $291,320, up 2.2% from $291,320 in October 2021.  
"The rise in interest rates continues to impact home sales," said GLAR President Kimberly Sickles. "While inventory remains very limited, home prices are not rising as dramatically as they had been. While we are currently seeing more moderate price appreciation in Louisville, we expect local sales activity to pick up in 2023."
Realtor.comⓇ recently ranked Louisville No. 3 on the Top Housing Markets Forecast because it is expected to see some of the strongest combined growth in homes and listing prices in the coming year while up until now seeing lower price increases and better affordability than the majority of markets across the U.S. 
Total housing inventory increased 18.2% to 2,410 at the end of November 2022 from 2,039 in October 2021. 
Months of supply in the Greater Louisville market remain low but continue an upwards trend. In November, there were 1.7 months of supply, up 41.7% from October 2021 but remained the same compared to the previous month. Typically, a balanced real estate market offers between six and nine months of supply. Nationally, there was a 3.3-month supply of housing inventory, according to the National Association of REALTORS® (NAR). 
Homes continue to sell rapidly and almost at listing price, reflecting strong demand. The average cumulative days on the market were 31 days in November, a 14.8% increase compared to a year earlier and the same as the previous month. The average percentage of list price in November decreased 1.0% to 98.% compared to October 2021. 
According to Freddie Mac, the 30-year fixed-rate mortgage was 6.31% as of December 15, down from 6.33% the previous week, but up from 3.12% a year earlier.  
NAR Chief Economist Lawrence Yun noted the impact on the real estate market of the recent drop in interest rates.
"The market may be thawing since mortgage rates have fallen for five straight weeks," Yun said. "The average monthly mortgage payment is now almost $200 less than it was several weeks ago when interest rates reached their peak for this year." 
Note: The method of collection for GLAR statistical information changed in 2022. Some information may vary slightly compared to earlier reporting periods. 
November Local Housing Statistical Reports by County:
Breckinridge-County
Bullitt-County
Grayson-County
Hardin-County
Henry-County
Jefferson-County
Meade-County
Nelson-County
Oldham-County
Shelby-County
Spencer-County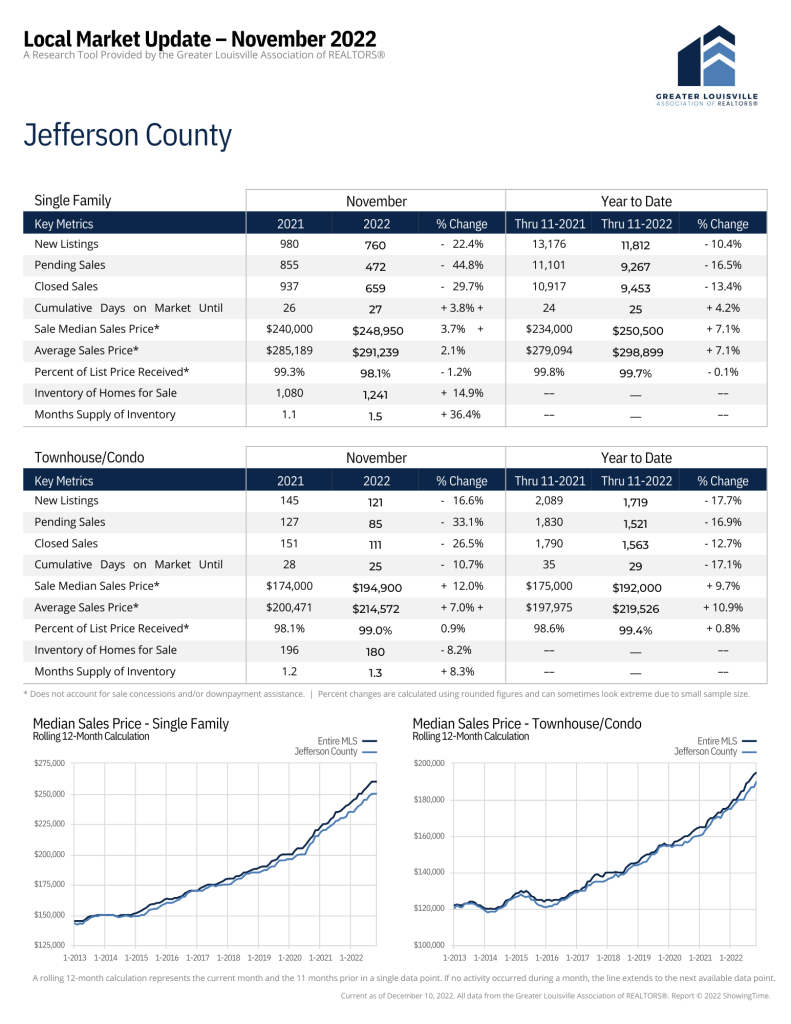 ---