Global

The Greater Louisville Association of Realtors® (GLAR) Global Council is dedicated to globally-themed education, programming, resources, and networking by:
Acting as a REALTOR®-driven community organization;
Helping REALTORS® build partnerships with globally-minded businesses, mortgage brokers, attorneys, and other relevant local entities; and
Positioning GLAR as the VOICE for global real estate in the local market and beyond.
---
What is a Global Business Council?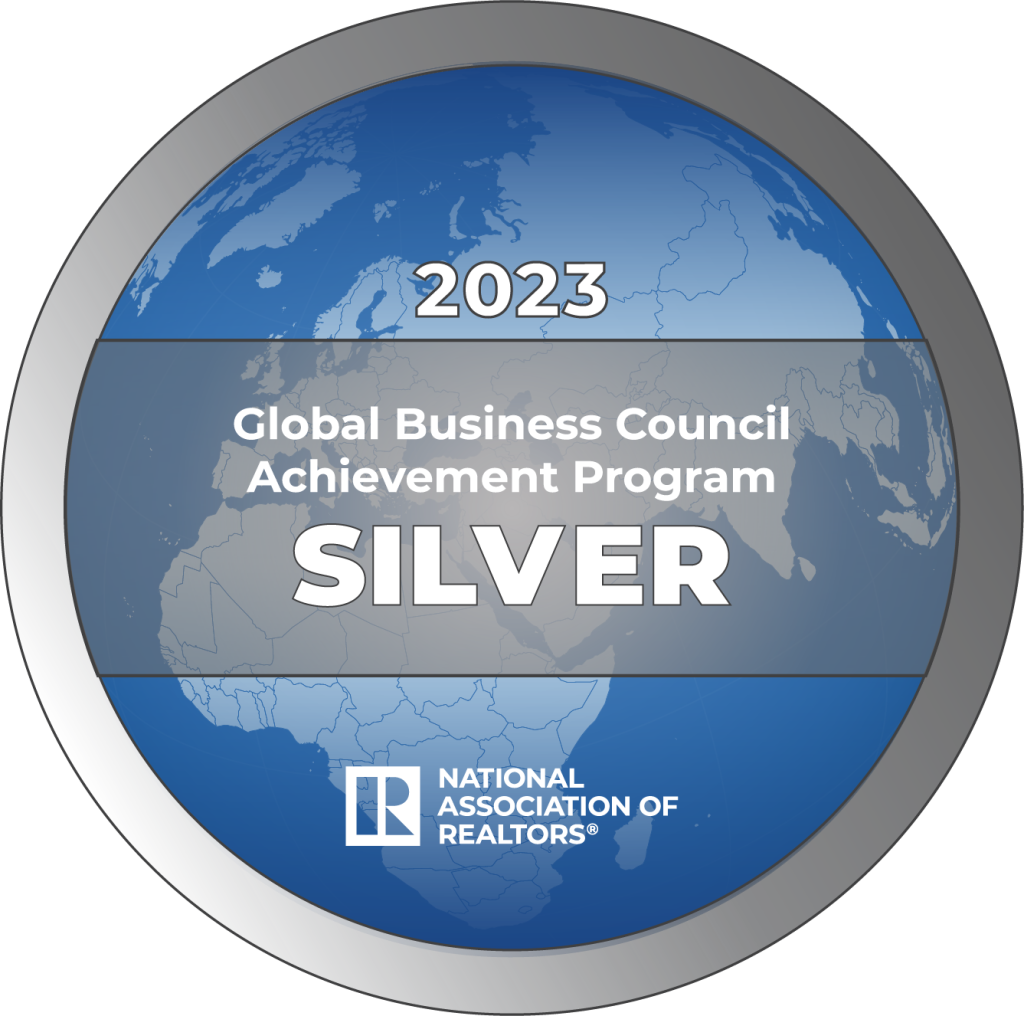 Global Business Councils are groups within the local or state board structure of NAR dedicated to globally themed education, programming, and networking for their members.
NAR Global Ambassador Program – NAR Coordinator David McCoy, CIPS
2023 GLAR Global Chair – Brigette Owens
2023 GLAR Global Vice-Chair – Amber Carter,CIPS
GLAR Global Liaison – Karla Murphy
---
Upcoming  Global Events – Register on your Member Portal:

---
GLAR Resources
Multi-Lingual REALTOR List – Find local REALTORS who are multi-lingual through our online Multi-lingual REALTOR Search.
Forms in Spanish – Did you know that GLAR Forms and Contracts are available in Spanish? Read more.
Watch our Global Webinar on the 2023 NAR International Trends in Real Estate.  Don't miss our showcase of our Global Events Programs below.
---
Why Global?
Louisville & GLAR are part of the Global Economy
Essential to smart business decisions
$175 billion in U.S. residential & commercial RE sold to foreign & immigrant buyers annually
Amplifies the importance of opportunities and highlights Members' international and multicultural expertise & potential
Includes transactions with:

Foreign Nationals
Immigrant Clients
Buyers with family abroad
Employees/Owners of Foreign Corporations
Multilingual Families
Other Groups residing in communities in every state
---
Highlights from the Report
$53.3 Billion – Dollar volume of foreign buyer residential purchases during April 2022–March 2023 (2.3% of $2.3 trillion of the dollar volume of existing-home sales)
84,600 – Number of foreign buyer existing-home purchases during April 2022–March 2023 (1.8% of 4.73 million existing-home sales)
51% – Foreign buyers who reside in the United States (recent immigrants; less than two years at the time of the transaction) or non-immigrant visa holders (Type B)
$396,400 – Foreign buyer median purchase price (compared to $384,200 for all U.S. existing homes sold)
42% – Foreign buyers who paid all-cash (compared to 26% among all existing-home buyers)
50% – Foreign buyers who purchased a property for use as a vacation home, rental, or both (compared to 16% among all existing-home buyers)
76% – Foreign buyers who purchased a detached single-family home or townhome (compared to 89% of all existing-home buyers)
45% – Foreign buyers who purchased in a suburban area

Top Foreign Buyers Reported
China (13% of foreign buyers, $13.6 B)
Mexico (11% of foreign buyers, $4.2 B)
Canada (10% of foreign buyers, $6.6 B)
India (7% of foreign buyers, $3.4 B)
Colombia (3% of foreign buyers, $0.9 B)
---
Global & NAR Resources
---
Local Global Resources & Links
Louisville Office of Globalization/Office of Immigrant Affairs
Global Louisville Directory
Louisville's Global Community & the Economy
Cabinet for Economic Development International Offices | Kentucky Cabinet for Economic Development
---
Earn the CIPS Designation
Unlock global real estate opportunities through the Certified International Property Specialist (CIPS) designation, catering to diverse audiences such as international investors, U.S. residents exploring new markets, and local clients eyeing overseas property investments. The CIPS designation equips you with essential knowledge, research capabilities, a valuable network, and tools for business expansion. Access the exclusive CIPS Network, a community of 4,000+ real estate professionals across 50 countries, reserved for CIPS-designated members of the National Association of REALTORS®, establishing you as a trusted guide for global market navigation.

---
Multicultural Organizations