November 2021 Real Estate Market Update – Greater Louisville Area
---
Year-To-Date Home Sales Up 5.2% with Average Price Up 8.9% and 6.5% Less Inventory
The Greater Louisville Association of Realtors (GLAR) reported year-to-date sales volume up 5.1% versus the first 11 months of last year.  Sales this November were 6.4% lower than last November when the market saw lots of pent-up demand after a much slower first half of 2020. 
 The average price was up 8.9% year-to-date. In Jefferson County, the average price was $274,150 and the median was $230,000. For all MLS areas, the inventory of available properties was 6.5% lower than at the same time last year.
GLAR President Paula Barmore commented that, "Our members are still seeing strong buyer demand, especially around the average price point." She added that, "Our association has made a recent contribution to the Realtor Relief Fund, and many of our members are organizing relief efforts following the devastating tornadoes from Mayfield to Bowling Green."
Lawrence Yun, the Chief Economist for the National Association of Realtors (NAR) noted that, "The intensity of multiple offers is certainly declining, but the fall/winter of 2021 is still poised to be the second best fall/winter market in the last 15 years." He added that, "I think sales activity in 2022 will be shaved modestly," as a result of slightly higher mortgage rates.
Read Full November 2021 Press Release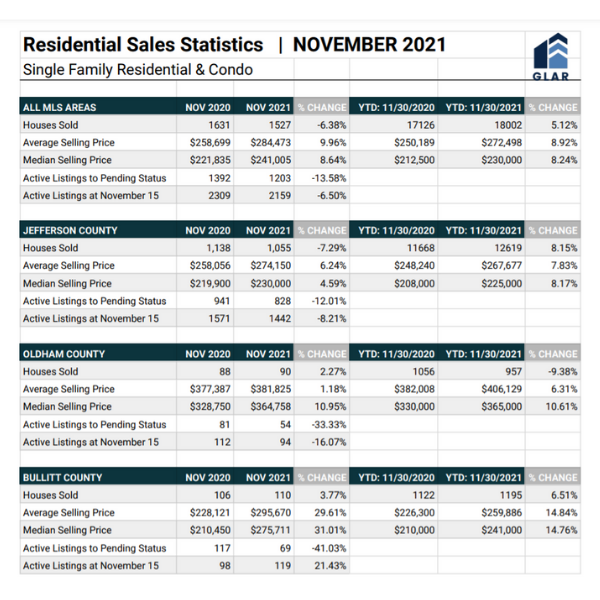 ---