June 2022 – Greater Louisville Home Sales Decrease in June, Prices continue to Rise
---
Louisville – Home sales in Greater Louisville declined for the sixth consecutive month in June while prices continued to increase due to demand outpacing supply, according to the Greater Louisville Association of REALTORS® (GLAR). 
Total existing home sales, including single-family homes, condominiums, and townhomes, decreased 16.81% from 1951 in June 2021 to 1623 in June 2022. Closed single-family home sales totaled 1,542 in June, a 9.9% decrease compared to June 2021, while sales of condominiums dropped 24.1% to 173.
Record demand combined with low supply continues to fuel price growth. The median home sale price in June was $270,000, up 12.50% from $240,000 in June 2021. The average home sale price was $312,860, up 9.78% from $284,989 in June 2021. 
Total housing inventory increased 23.6% to 2,215 at the end of June 2022 from 1,792 in June 2021.
Months of supply in the Greater Louisville market remain low but continued their upwards trajectory. In June, there were 1.4 months of supply, up 27.3% from June 2021 and 37.3% compared to the previous month. Typically, a balanced real estate market offers between six and nine months of supply. Nationally, there was a 3.0-month supply of housing inventory, according to the National Association of REALTORS® (NAR).
Homes continue to sell rapidly and almost at listing price, reflecting strong demand. The average days on the market were 20 days in June, equal to the figure a year earlier but lower than earlier this year. The average percentage of list price in June was 99.7%.
"Despite the recent increases, mortgage rates are relatively low compared to historical values, and there is insufficient supply to meet buyer demand," said GLAR President Paula Barmore. "Consumers recognize the financial benefits of homeownership, particularly in a moderately priced market like Louisville that offers a high quality of life, diverse communities, and a convenient and central location." 
According to Freddie Mac, the 30-year fixed-rate mortgage was 5.52% in June up from 5.23% in May. 
NAR Chief Economist Lawrence Yun expects rates to rise as long as consumer price inflation continues to increase.
"Rates will stabilize only when signs of peak inflation appear," Yun added. "If inflation is contained, then mortgage rates may even decline somewhat."
MORE REAL ESTATE STATISTICS HERE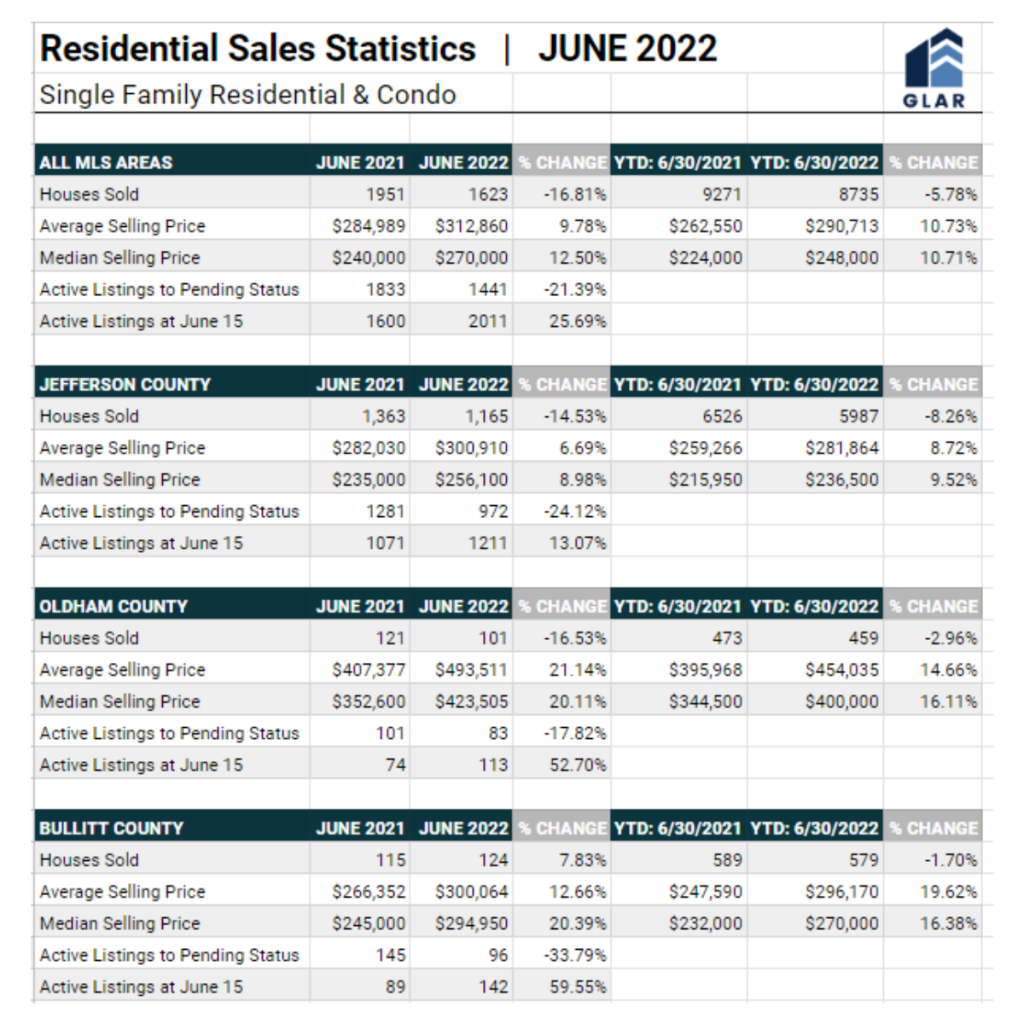 ---