GLAR Develops Certificate of Professional Excellence for Members
---
The Greater Louisville Association of REALTORS (GLAR) is committed to providing members with tools to elevate their career, grow their business and provide extraordinary service to their clients. GLAR recently launched the new Certificate of Professional Excellence (CPE) in 2019.
This unique certification was developed by GLAR specifically for members. Each course was designed around the local market, creating a more personalized curriculum rather than the one size fits all of national designations. The Certificate of Professional Excellence (CPE) denotes a commitment to excellence with an understanding that honesty, respect, cooperation and timely, effective communication results in superior customer service and satisfaction.
REALTORS obtain this certification by successfully completing 5 CPE designated classes within a 2 year period. Classes for the CPE Certification will be hosted by GLAR throughout the year. Members can view the schedule and register for the CPE classes through www.LouisvilleRealtors.com.
REALTORS who have obtained this certification can be identified by the CPE Logo below.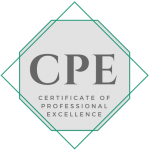 You can find more information on the CPE Certification at https://www.louisvillerealtors.com/members/education/cpe/
---