February 2022 Real Estate Market Update For Greater Louisville
---
Strong Demand and Low Supply in Greater Louisville Generate Higher Prices and Decreased Sales in February
Louisville – Following a record-breaking sales year in 2021, home sales in Greater Louisville declined for the fifth consecutive month due to extremely low supply and rising interest rates, according to the Greater Louisville Association of Realtors® (GLAR).
Total existing home sales, including single-family homes, condominiums, and townhomes, decreased 9.06% from 1192 in February 2021 to 1084 in February 2022.
The median home sale price in February was $235,250, up 12.02% from February 2021 ($210,000). The average home sale price was $282,755, up 14.95% from $245,978.
While rising interest rates later this year should somewhat curb demand, the local market will still have insufficient supply. In February, there was less than one month of supply in Greater Louisville. A balanced real estate market offers between three and six months of supply.
"We continue to see extremely low inventory due to record demand and fewer active listings," said GLAR President Paula Barmore. "Buyers anticipating higher interest rates are generating more demand even though rates remain at lower historical levels."
National Association of Realtors® (NAR) Chief Economist Lawrence Yun explained the impact of rising interest rates on the national real estate market.
"First, some moderate-income buyers who barely qualified for a mortgage when interest rates were lower will now be unable to afford a mortgage," he said. "Second, consumers in expensive markets, such as California and the New York City metro area, will feel the sting of nearly an additional $500 to $1000 in monthly payments due to rising rates."
Louisville buyers will not be as impacted by rising rates given local prices are relatively moderate compared to larger, more expensive markets.
Find more statistical reports here.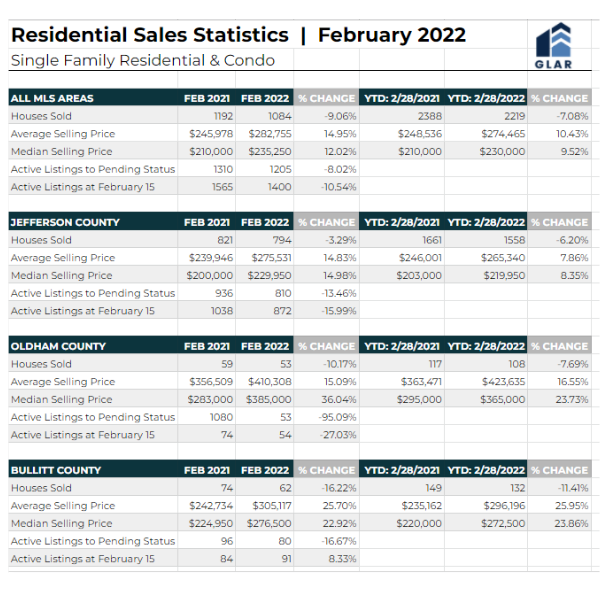 ---