Post License Education (PLE)
---
EDUCATION REQUIREMENTS CHEAT SHEET – Download a printable version of our Education Requirements Cheat Sheet for licensees. Always check your requirements with the Kentucky Real Estate Commission under the eServices portion of their website at www.krec.ky.gov.
---
Click here to access the Kentucky Real Estate Commission PLE Information page.
---
NEXT PLE SESSION:
2 WEEK PLE ACCELERATOR – November 6 – 16, 2023
Click here for the printable version. Register online through your member portal at http://ims.lbr.org.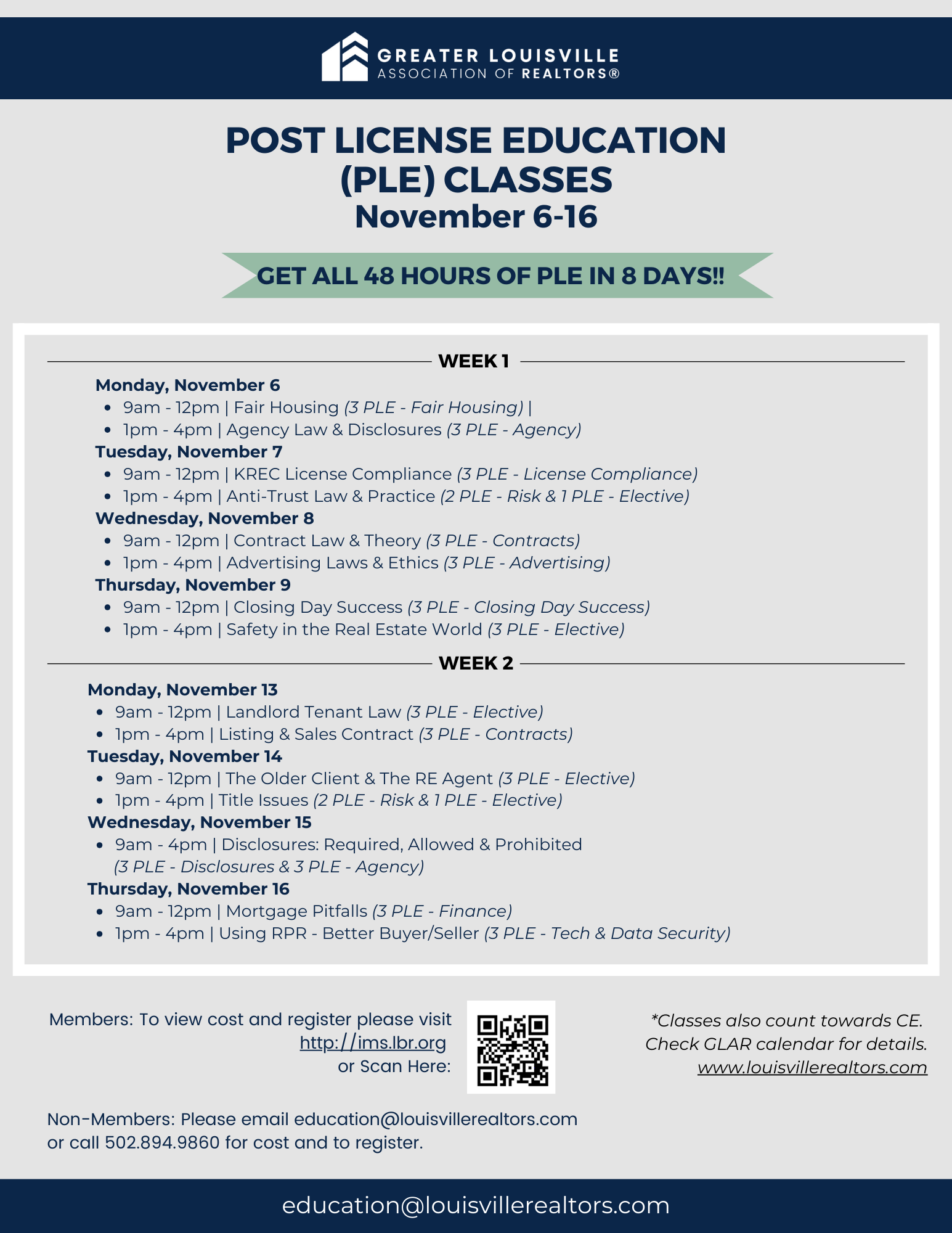 ---
PLE is required for new Sales Associates Licensees licensed after January 1, 2016.
Calendar begins the day Licensee affiliates with a Principal Broker
Calendar is 24 months from start date
Inactive Licensees are NOT exempt from PLE!
No PLE credit given for duplicate courses
No more than 9 hours of PLE may be taken in 24 hour period
PLE Delinquency = License Cancellation!

48 HOUR BREAKDOWN

32 Mandatory PLE Hours
3 hour KREC Licensee Compliance
6 hours in Agency
6 hours in Contracts
3 hours in Finance
3 hours in Advertising
3 hours in Disclosures
3 hours in Fair Housing
3 hours in Technology and Data Security
2 hours in Risk Management
AND 16 Elective PLE Credit Hours

Post License Education (PLE)
​Post-license education requires all new sales associate licensees to complete forty-eight (48) hours of post-license education courses within two (2) years of obtaining and activating a real estate license.
Who Needs PLE?
PLE applies to new sales associate licensees who received and activated their real estate license after January 1, 2016.
Sales associate licensees who receive their license through the license recognition process are also required to take PLE.
Sales associate licensed prior to January 1, 2016, are not required to complete PLE.
New broker licensees are not required to complete PLE.
How does inactivating your license affect the PLE requirement?
The 2-year deadline for the PLE requirements begins to run once a new sales associate licensee affiliates with a principal broker. So, if you immediately place your license into inactive status you are not required to start completing your PLE requirements.
IMPORTANT: Once you affiliate your new sales associate license with a principal broker, your 2-year clock to complete the 48-hour requirement begins to run and cannot be paused or stopped if you decide to inactivate your license after having been affiliated with a principal broker. You will need to complete these requirements even while your license is inactive or risk license cancellation.
What happens if I do not complete my 48 hours of PLE by the deadline?
Your license will be canceled.
Can the same PLE course be taken twice for credit?
No

What else do I need to know?
​PLE courses are required to be real estate specific, to provide practical knowledge of the brokerage business; to protect the public interest and must be practicum based.
In order for a licensee to receive Post-License Education (PLE) credit for a course, the course must be approved by the Kentucky Real Estate Commission (KREC) for PLE credit.
To receive credit, the KREC requires the following:

Your signature on the sign-in sheet. If you are taking a full-day class, you will also need to sign-in when returning from lunch.
You must turn in a completed course evaluation and attendance affidavit.
PLE Classroom Regulations:
No one may enter a class 10 minutes after the assigned start time. The same rule applies for returning from breaks and lunch. No one will be re-admitted into the classroom if returning late from break or lunch.
NO electronic devices may be used inside the classroom. This includes, but is not limited to, cell phones, texting and lap-top computers. Anyone using an electronic device during class will be asked to leave without credit or refund.
Students will receive a ten-minute break every hour. These are the allotted times for using the facilities and taking calls.
Students are expected to give their full attention during class. Please refrain from holding side conversations, reading materials other than the course hand-outs or taking unscheduled breaks.
No credit or refund will be given to students barred for violation of these regulations.
For more information on upcoming PLE Classes, email Education@LouisvilleRealtors.com.