Certificate of Professional Excellence (CPE)
What is CPE?
The CPE stands for Certificate of Professional Excellence and is a unique certification developed by GLAR specifically for its members. Each course is designed around the local market, creating a more personalized curriculum rather than the one size fits all of other national designations and certifications.
How does it benefit me?
The Certificate of Professional Excellence (CPE) denotes a commitment to excellence with an understanding that honesty, respect, cooperation and timely, effective communication results in superior customer service and satisfaction.
REALTORS holding this certification will be known for their expertise, high level of professionalism and integrity.  This CPE Certification is specifically designed to provide the tools, strategies, and knowledge necessary for today's local real estate market.
How do I obtain the CPE Certification?
REALTORS must successfully complete three required courses listed below within a two-year period to be awarded the CPE Certification. Each class is 6 hours.
CPE: Contracts
CPE: Agency, Listings and Addenda
CPE: Ethics, Communications and Cooperation
When Are the Classes and How Do I Register?
Classes for the CPE Certification will be hosted by GLAR throughout the year.  View the schedule and register for these CPE classes by clicking here or by clicking the Member Login button above on our website.  When registering, please be sure that the course is identified as a CPE course for it to count toward obtaining this certification.
Questions? 
Our Professional Development Department is here to help you with any questions you may have. Contact them at Education@LouisvilleRealtors.com or by calling (502) 894-9860.
Look for this logo to identify professionals with the CPE Certification.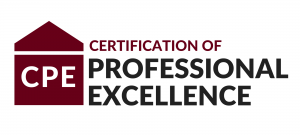 REALTOR Members who have obtained the CPE Certification:
Norman Armstrong
Barbara Ashbaugh
Allison D Bartholomew
Nathan Bellows
Grace Carswell
Jason D. Curtsinger
Lucila De La Vega
Kell Dixon
Randall Fleming
Debbie Forman
Nancy M. Gries
Laura Harris
Susan B Hatton
Anthony Heitzman
Martha Hemminger
Richard Lane Hogue
Justin W. Howell
Lee Jolly
Jon Karlen
April Kruse
Mary M. Lowry
Cathy Miller
Judie Parks
Andrew Pruitt
Tammy M. Ramsey
Lester Sanders
Jami Schwager
Kate M. Shaffery
Cris W Sims
Jonathan E. Sisco
Kathryn Sotelo
Tammy E. Stokes
Karen D. Story
Allison W. Thomas Jr.
Ellen C van Nagell
Colleen E Walker
Deirdre Weber
Vicky D. Westrick
Angie Riley
David Huber
Chris Haunz
Christina Mansour
Crissie Huntley
Primus Julian Bugar
Cindy Petrie
Erick Barger
Karen Wallace
Jason Whisman
Kathy Ludwig